Save time with Shot Lister, the affordable shoot scheduling app that replaces paper shot lists.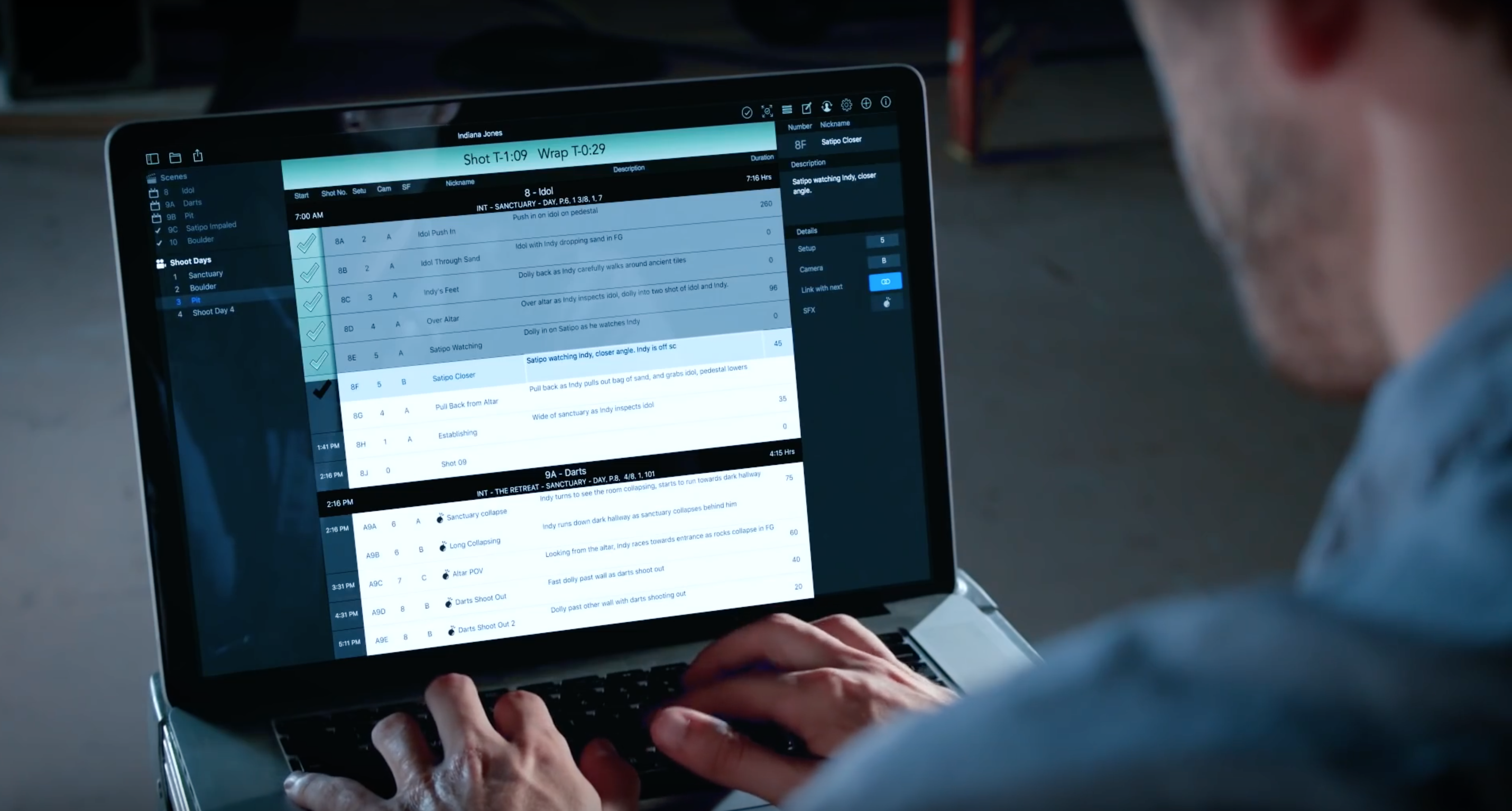 Shot Lister was created by Zach Lipovsky to make the shooting of his own films easier when he realized there wasn't a reasonably priced alternative to paper shot lists.
Below I cover the basics of Shot Lister and talk with Zach about the past, present, and future of Shot Lister.


Scheduling
Shot Lister lets you create a shooting schedule on a shot by shot basis.
It works on iOS ($13.99), Android ($13.99), and MacOs ($39.99) and has an optional Pro subscription ($13.99) which gives you access to additional features. There is a detailed knowledge base on how to get started with Shot Lister as well as Tutorials.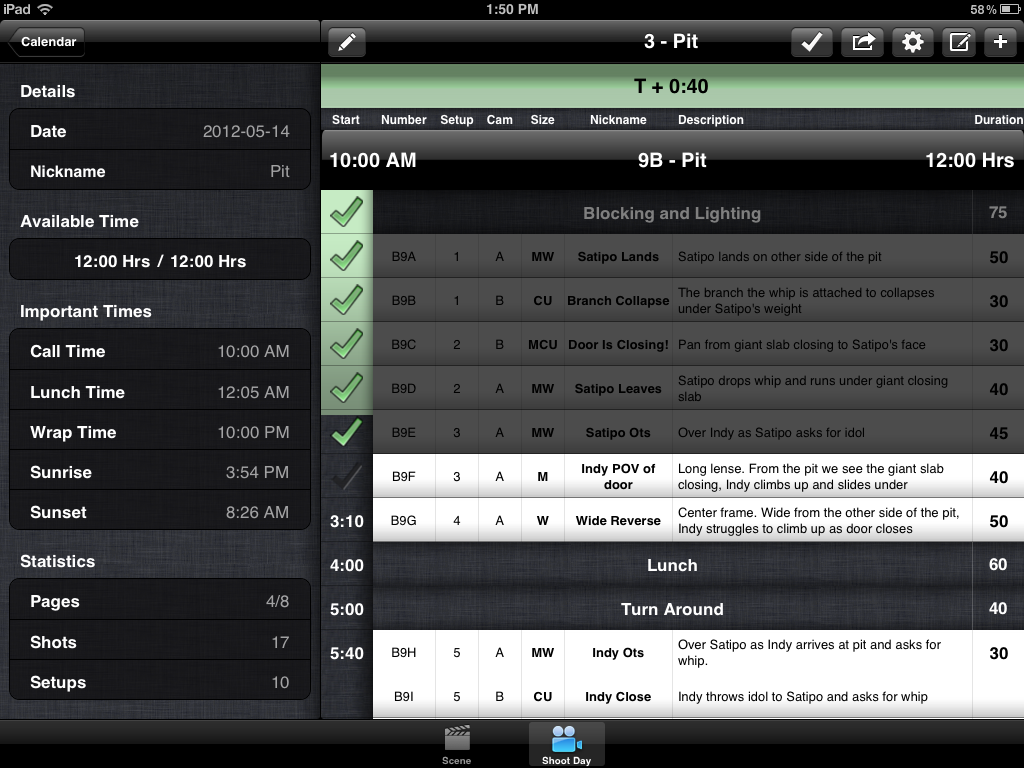 LIVE MODE
The big advantage of using Shot Lister over paper scheduling is that it can change with your schedule. Live Mode goes beyond having a basic spreadsheet and recalculates time for you. Shot Lister tells you how you are doing to the minute, and re-organizes the day in a matter of seconds. It shows you exactly how many minutes ahead or behind you are. You can go into the end of the day and change shots (drop less important shots).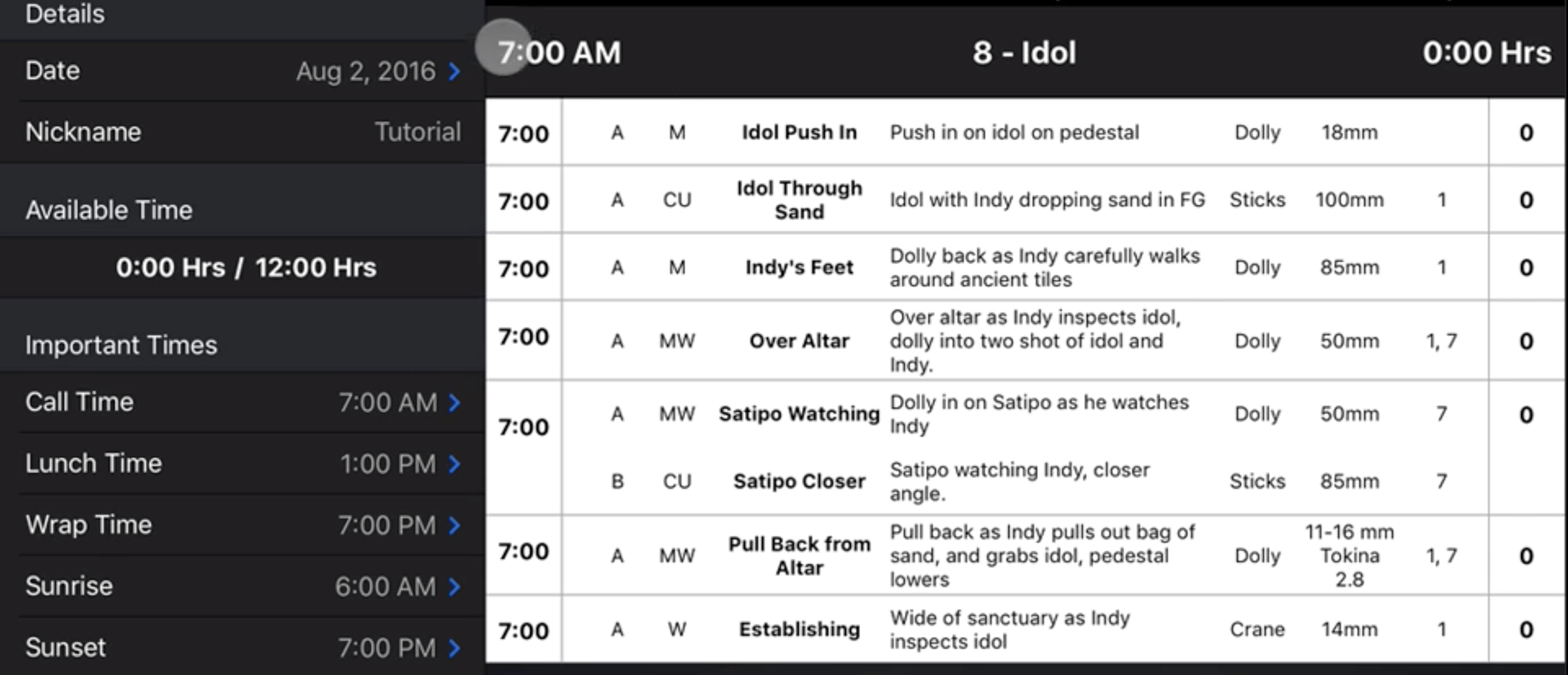 FULLY CUSTOMIZABLE
Every project and director is different, customize and order every category throughout the app to your taste and needs. Re-name the user category for any specific use you need, like tracking props or wardrobe. Customize the lens and gear list to fit your package.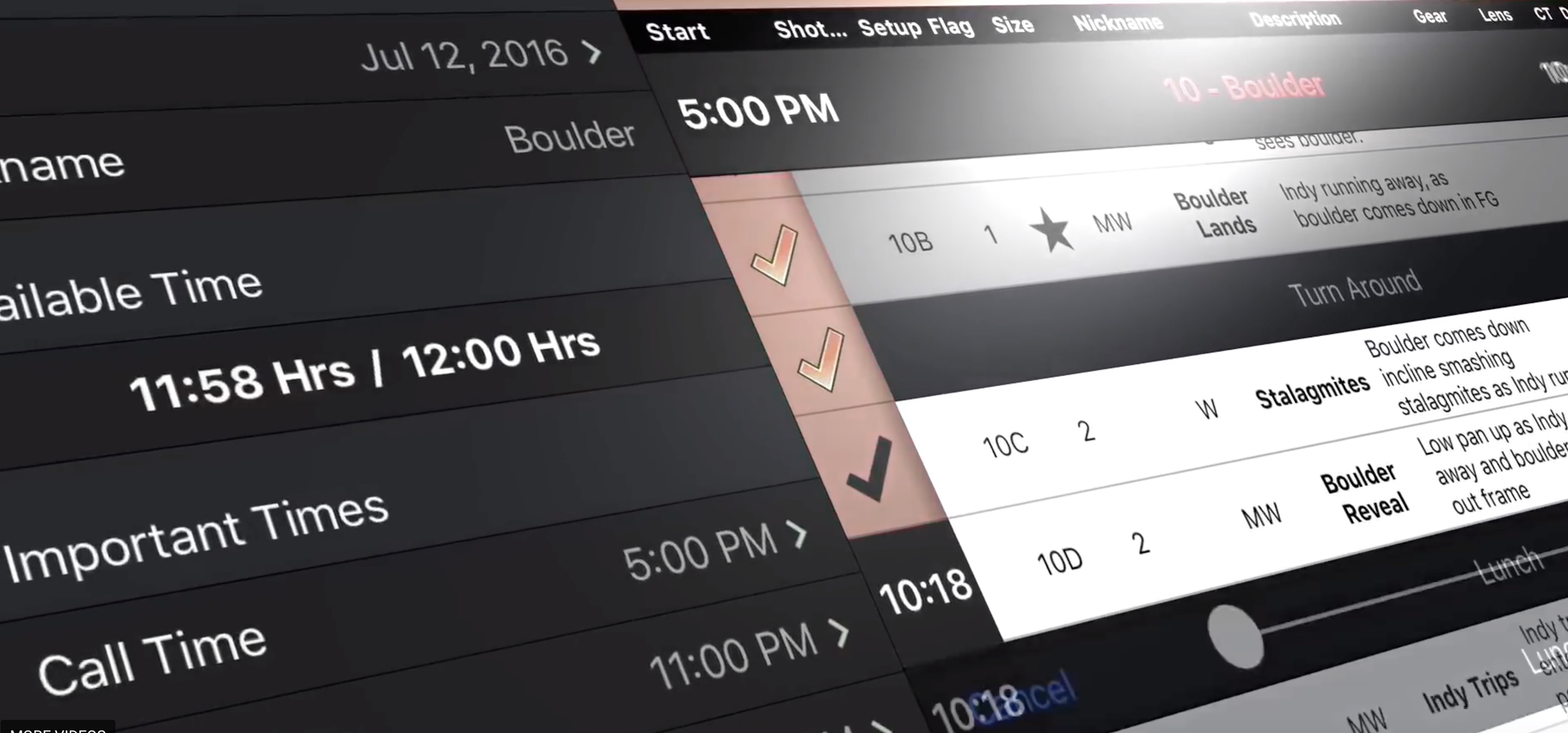 MULTI-CAM SUPPORT
Assign shots to different cameras and group them together to be shot simultaneously and supports up to 26 cameras.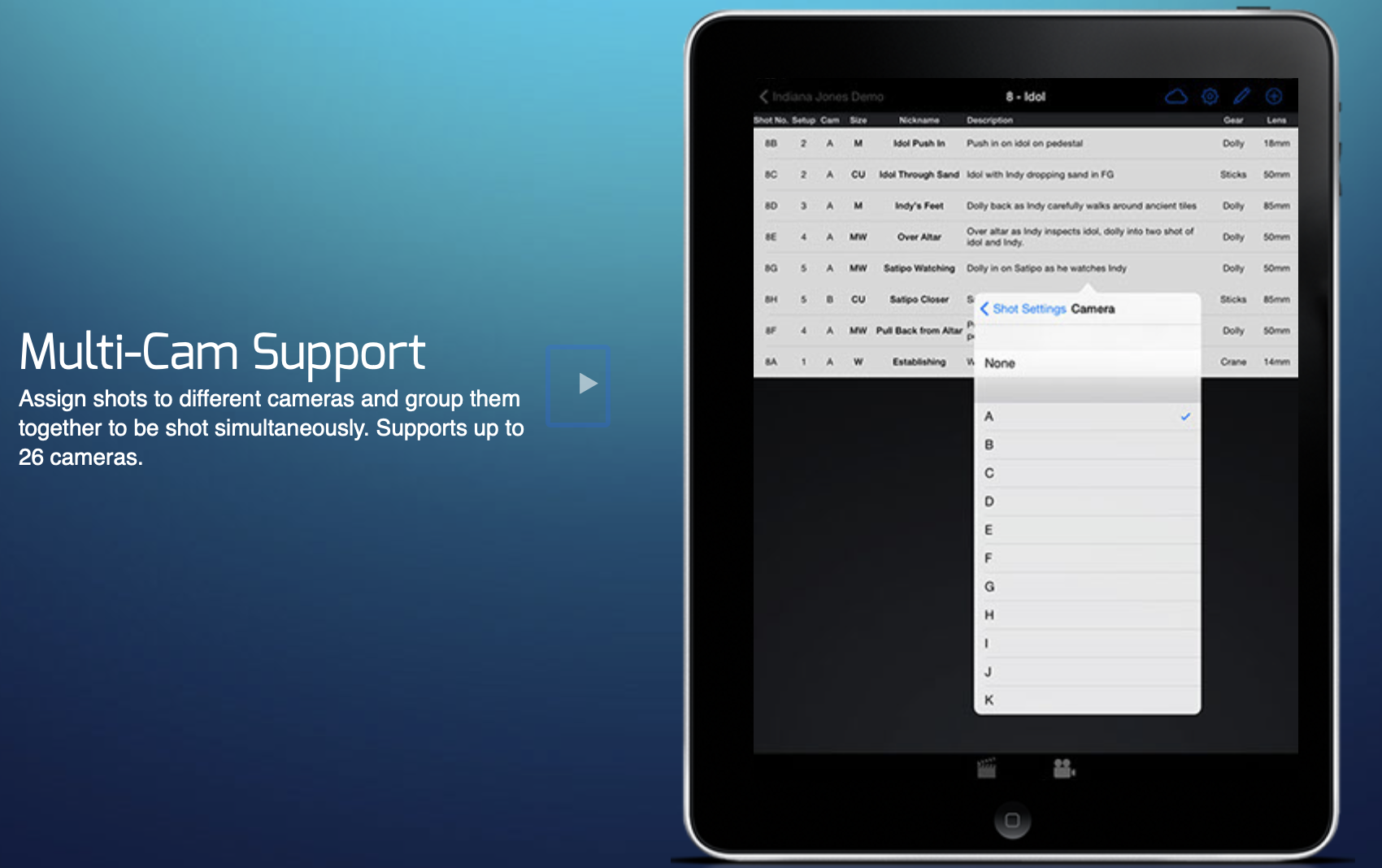 Pro Features -optional annual subscription ($13.99) gives you access to additional features.
SCRIPT IMPORTING
Import a Final Draft script, Celtx Script or Fountain script directly into Shot Lister and let it instantly build a project, generating all the scene metadata and cast list to save you time. Celtx importing also includes shot data.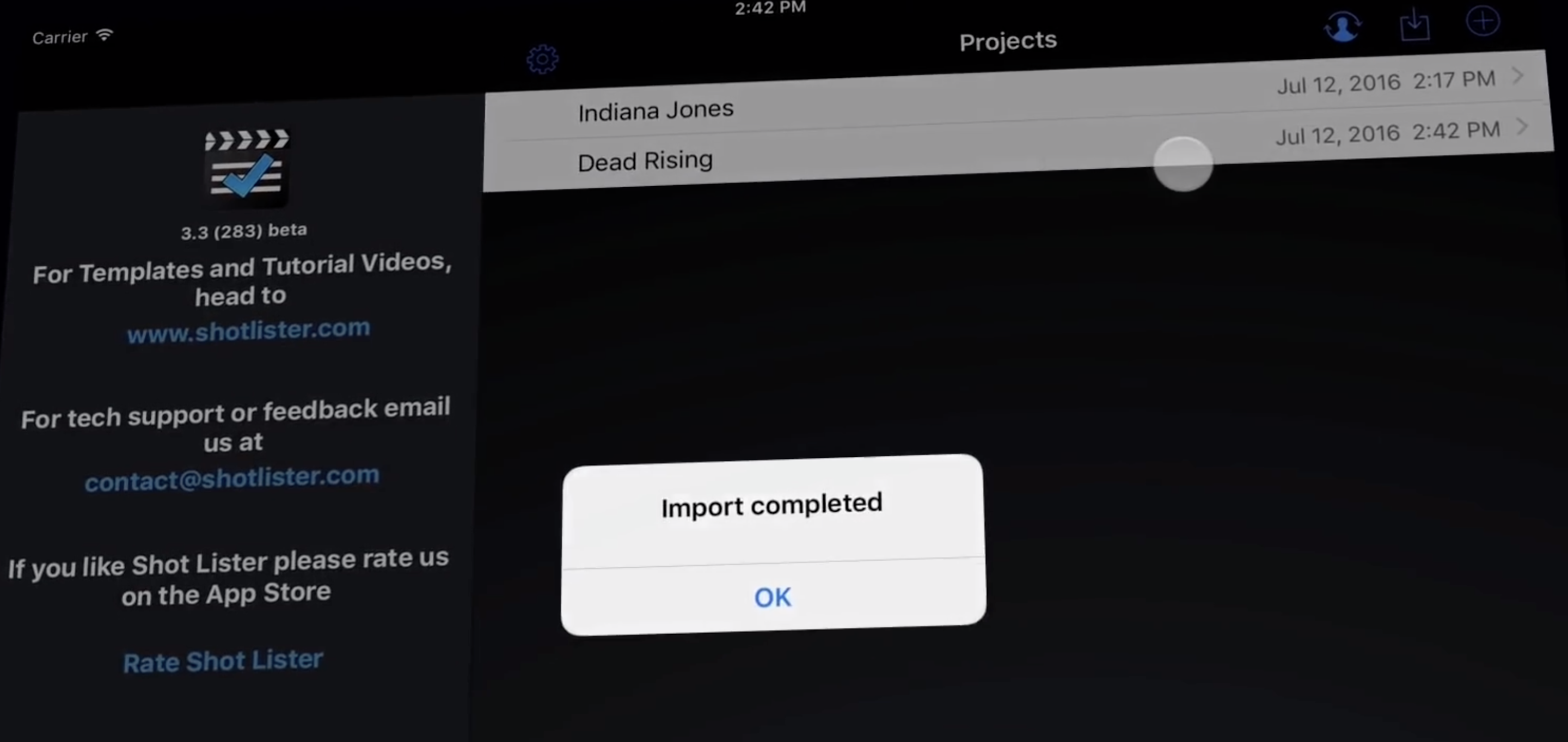 STORYBOARDS

Add Storyboards to every single shot and display them full screen in the Storyboard Theatre. View your plan, and which boards are left to be shot in Shooting order or Scene order.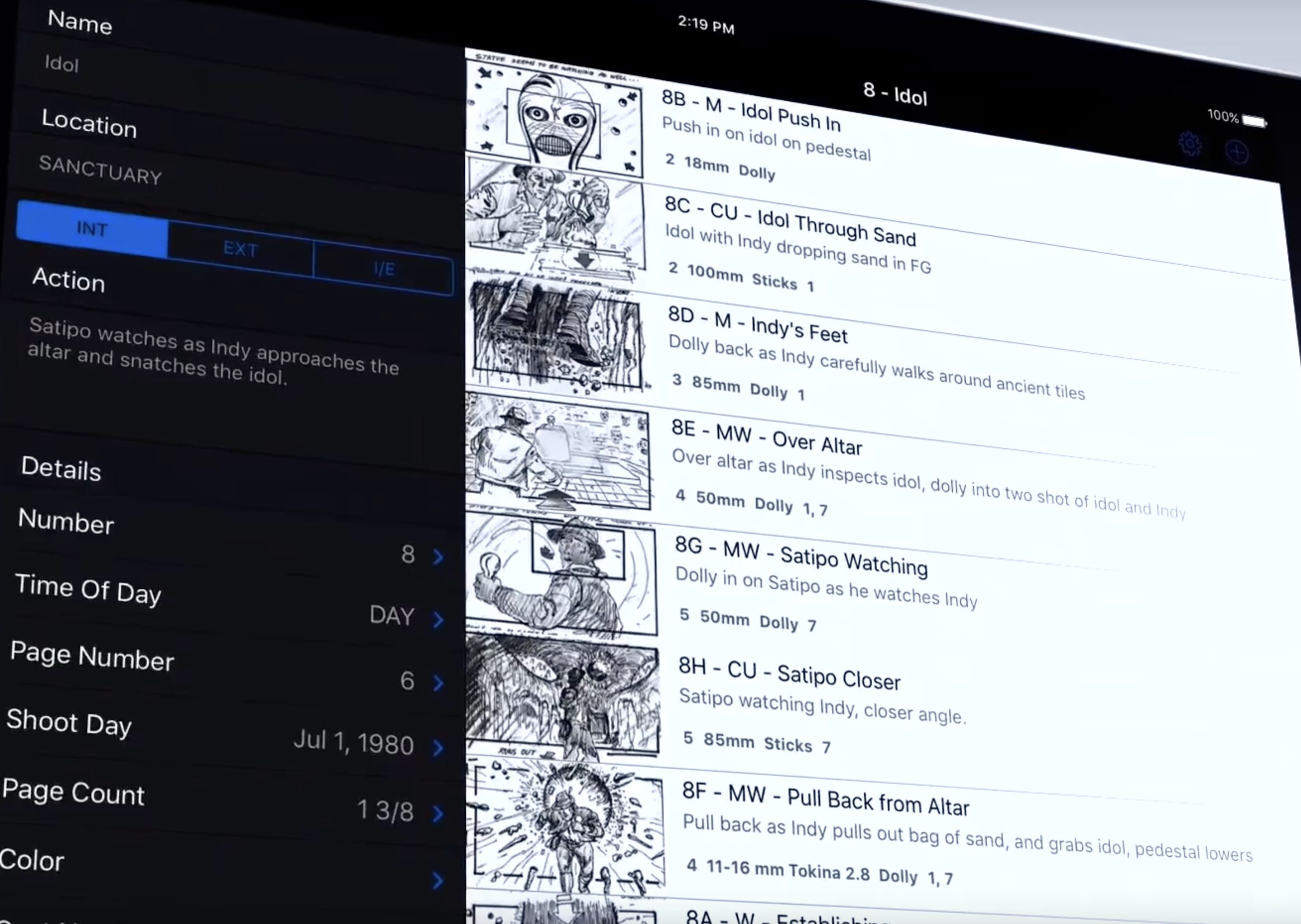 CIRCLE TAKES

In the time it takes to tap a finger instantly circle which takes for each shot were the best and export the data in SHL or PDF.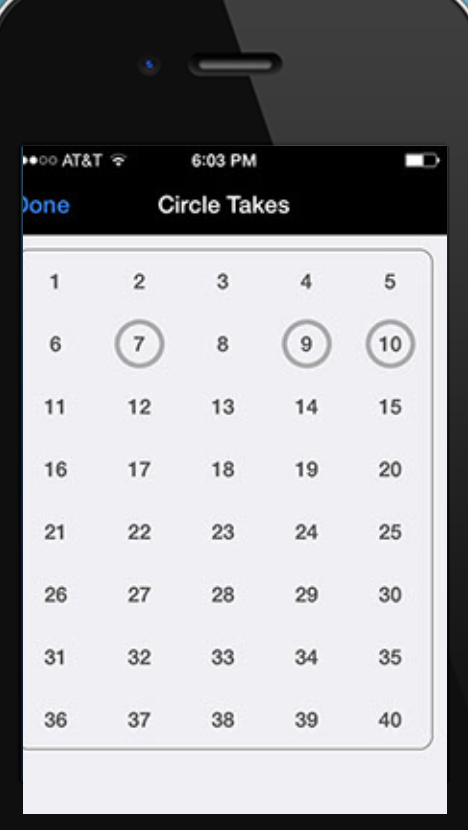 iCLOUD CREW SYNC

Keep both your tablet, phone and Mac in sync with your crew sync account.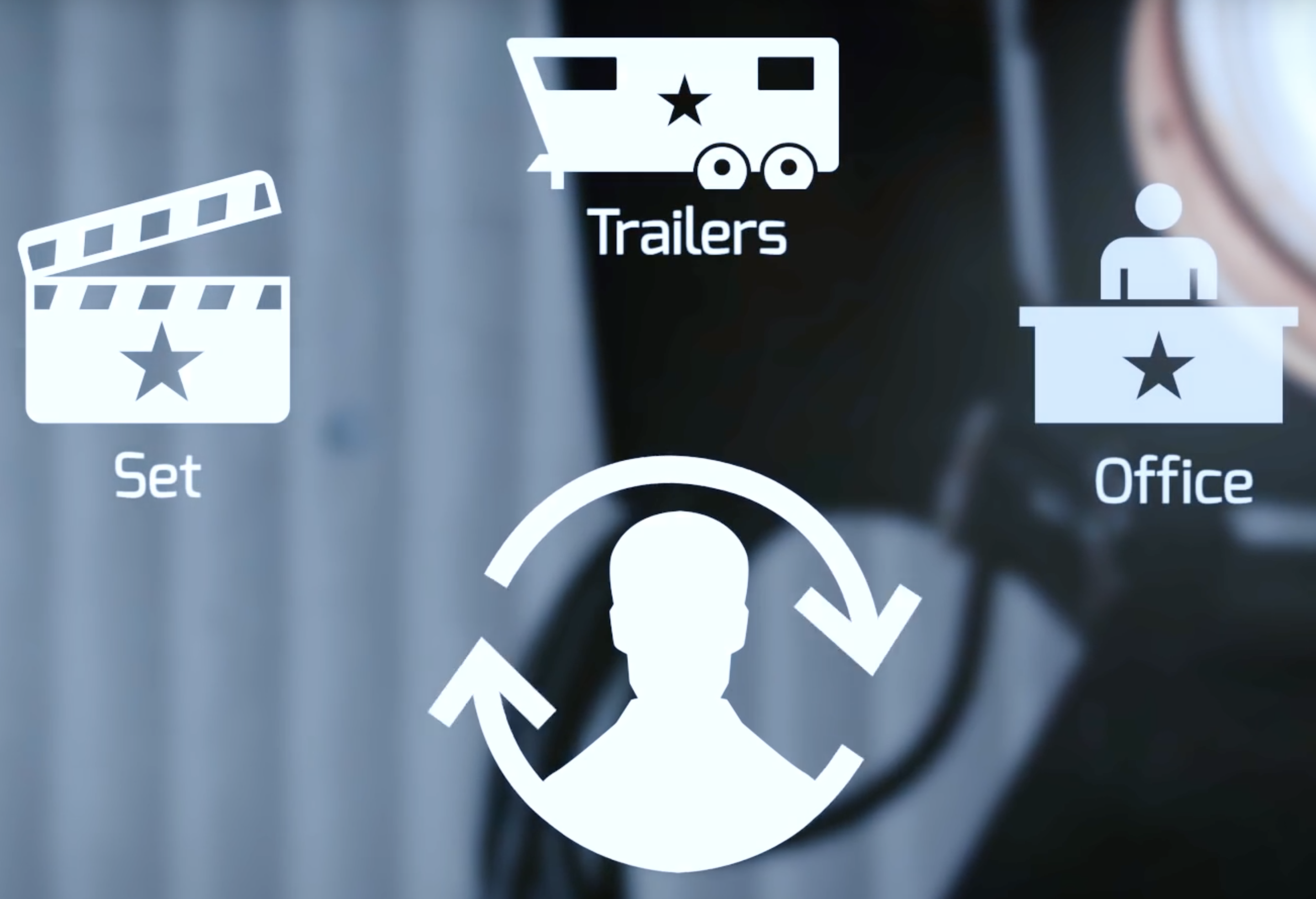 Interview with Zach Lipovsky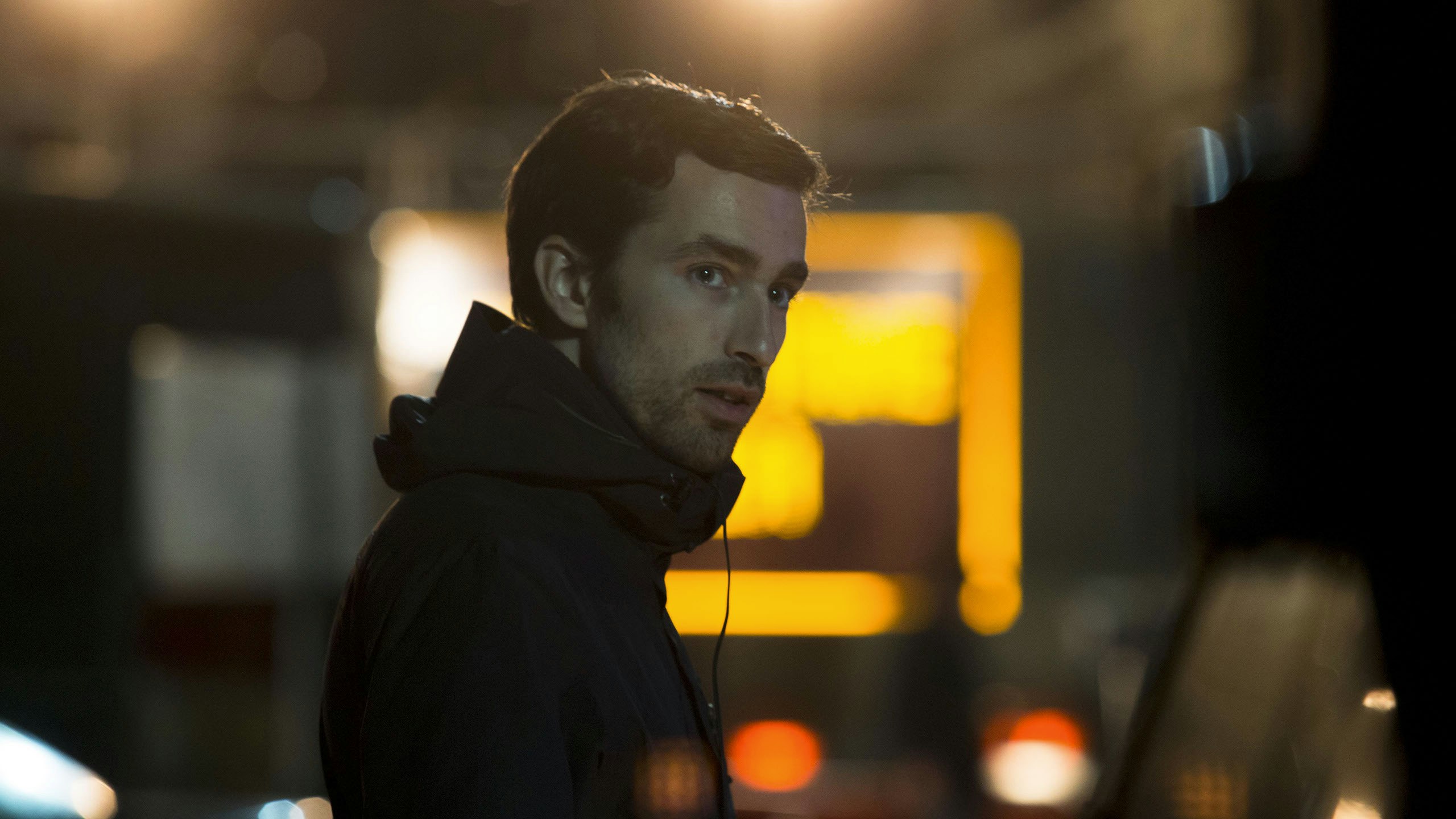 How did you get started in the industry?
I got my start on a reality TV series produced by Steven Spielberg called "On The Lot", which was basically American idol for directing. From there I started making small monster movies for Syfy, Lionsgate, and Legendary. Recently I've made an indie coming out in theaters this summer called FREAKS, starring Emile Hirsh and Bruce Dern.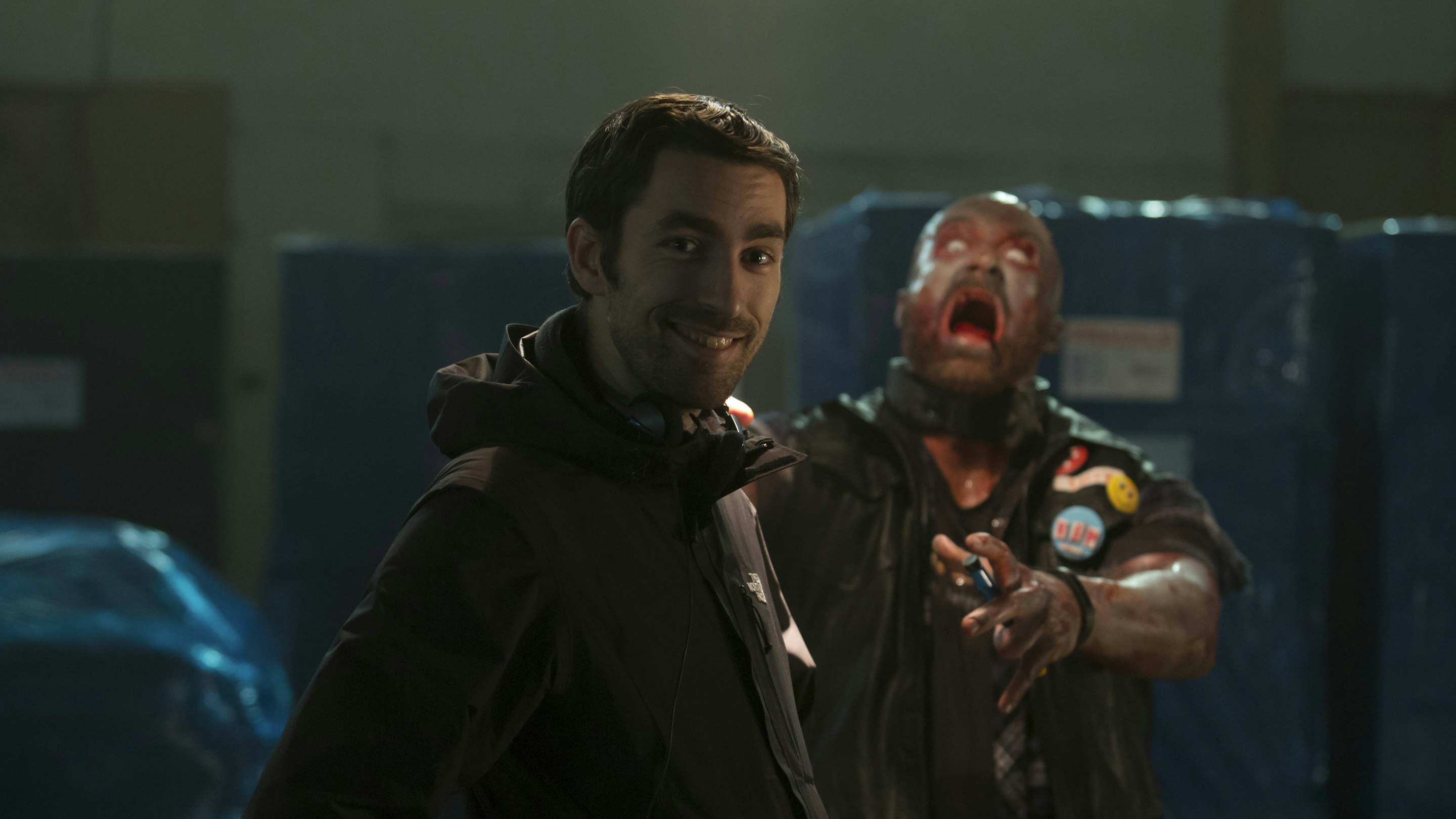 What is your passion and how does that relate to your app/plugin?
I'm a director and a nerd, and making apps for directors is a great combo of my passions. When I made my first film I couldn't believe people relied on long, printed out spreadsheets for managing their shot list in real-time. It was a necessity to build an app that builds shot lists digitally so that it can change instantly as the shoot day evolves.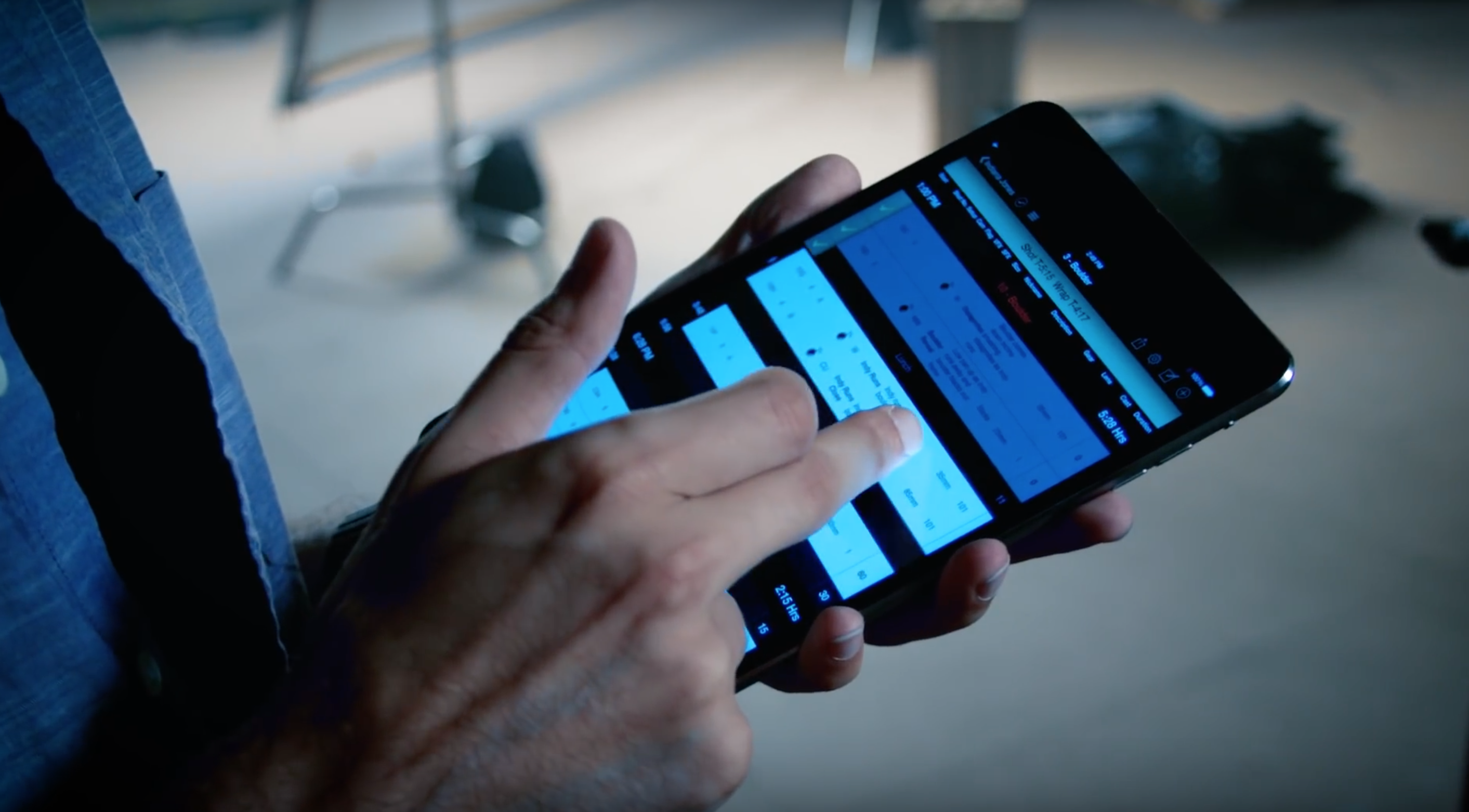 What specific function does your app fill in the industry?
Shot Lister is not only the best way to create a shot list but the only app that lets you build a shooting schedule on the shot by shot and minute by minute basis. Then when you're shooting, you can change the schedule effortlessly with the flick of a finger and let the app re-do all the math for you so you know how you're doing.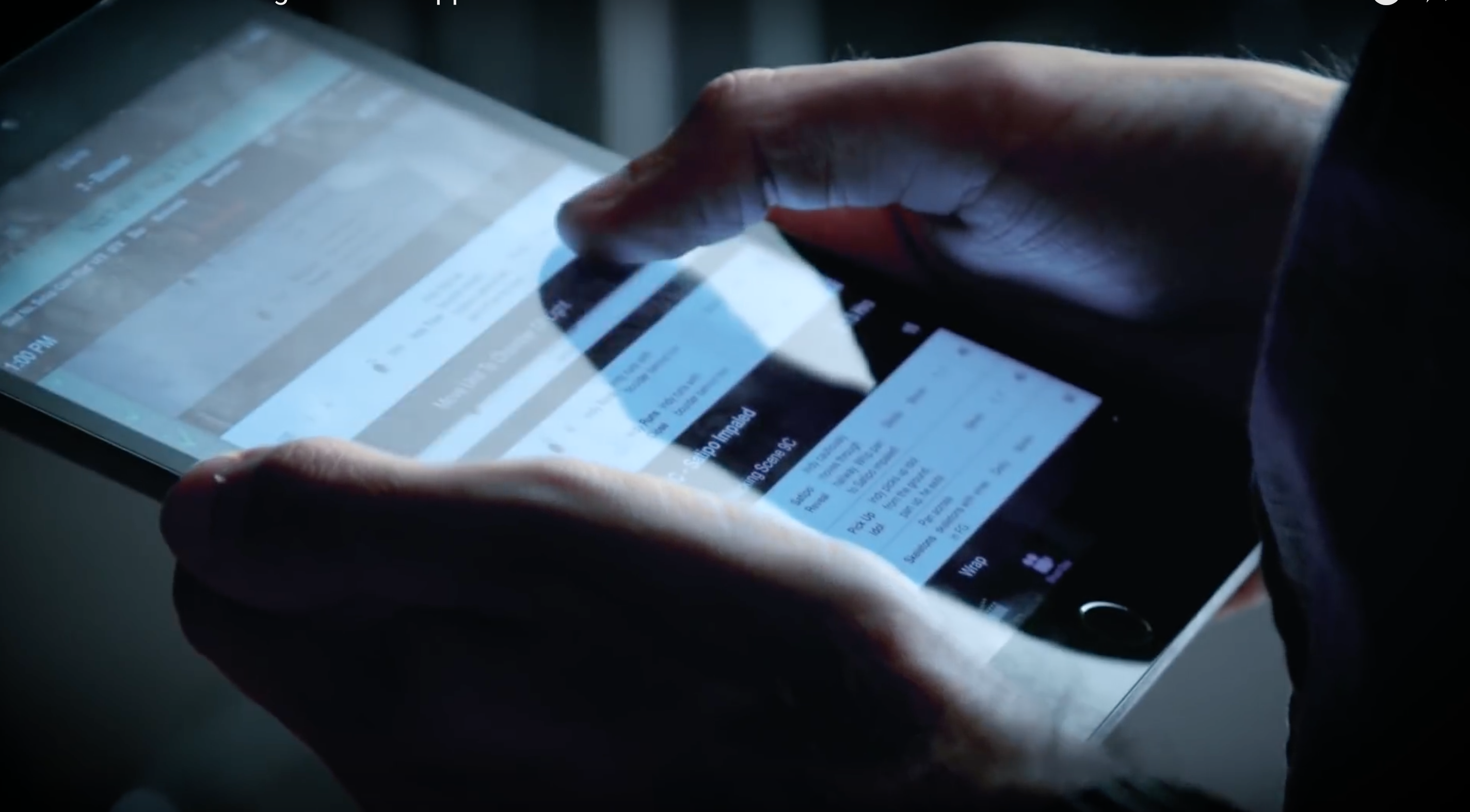 What are the future plans for your company?
We want to keep expanding the features. We listen to our users and build whatever is most requested. Our next big update will include the ability to manage episodes and add a lot more custom features.
How do you see the industry changing/evolving in the next 3-5 years?
I'm looking forward to Augmented Reality changing the way we interact with apps and digital life. Once we have seamless AR glasses instead of phones and iPads, interacting with digital apps will be truly magical.